A self-insertable medical device able to release small doses of medication in the vagina,
according to a personalized delivery schedule.
The device is able to monitor bio signals and collect data to improve the treatment.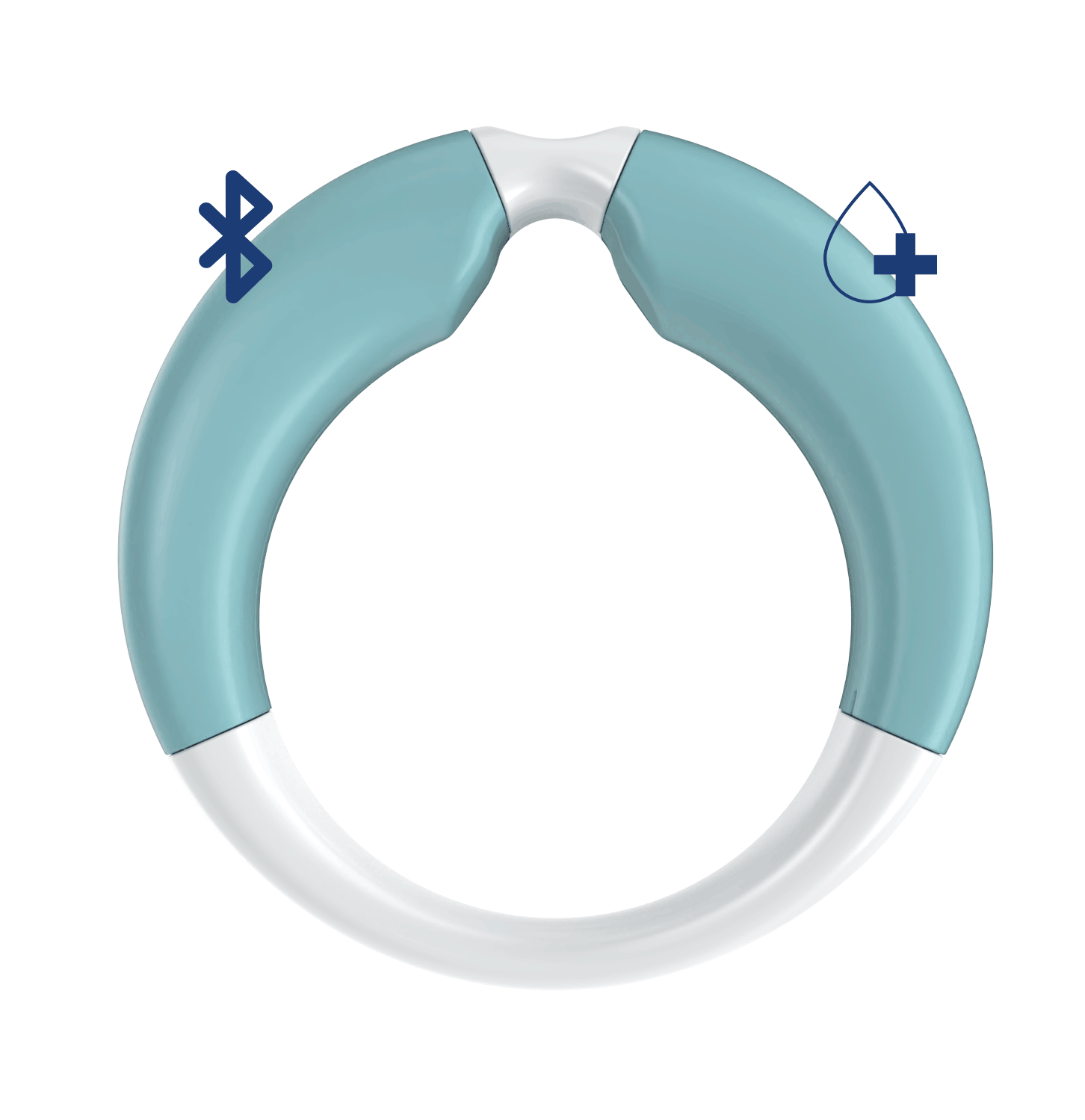 Discrete and convenient treatment 
Shape and dimensions optimized for the vagina
Flexible materials for self-insertion and removal
Drug delivery

Pump for accurate drug administration
Suitable for a range of Active Pharmaceutical Ingredients (API)
High bio-availability and no  hepatic first-pass-effect

Operational lifetime of 4 weeks
Temperature measurement (for compliance)
Bluetooth connection
The MedRing device is connected to the smartphone of the user via Bluetooth. This allows the user to control it with the Companion App, without removing the device.
The Companion App provides the status of the device, gives insight into the treatment progress and allows the personalization of the drug delivery schedule.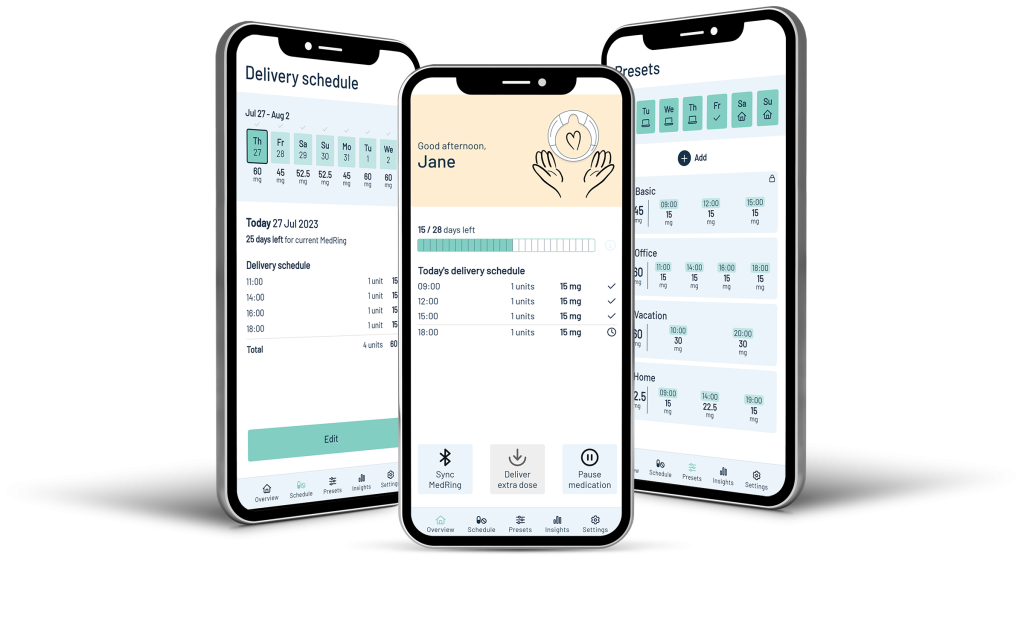 Switch MedRing device on/off
Connect to the MedRing via Bluetooth
Schedule time and dose of drug administration 
Collect treatment insights and device data
Control reporting to healthcare professionals
In-app support and use instructions
Compatible with iOS & Android
Account authentication and login
The cloud environment receives data from the Companion App
to backup personal settings, device configuration and treatment data.
The data platform allows to safely share information with healthcare professionals
and analyzation of data to improve treatment.
Account administration
Authentication of users and devices
Secure transfer and storage of data
Generate reports for healthcare professionals (per request of the user)
Data analysis for research and development
LiGalli provides a modular platform ready for
the future of personalized healthcare
The flexibility in scheduling drug administration provided by the MedRing provides numerous possibilities for advanced treatment. 
Precise titration schedules
Tapering and chronotherapy
Quick response applications
Drug delivery based on bio signals (closed-loop system)
The continuous monitoring opportunity of the MedRing in the vaginal environment offers unique possibilities.
Discrete 24/7 monitoring
Long-term remote monitoring
Treatment effectiveness feedback
Monitoring of diseases
Platform for wide variety of sensors
The digitalization of drug administration and advanced monitoring provide unprecedented data for the pharmaceutical and medical device industry.
Medication intake compliance
Aggregation of healthcare data
Exchange of data between healthcare systems
Advanced insights for pharmaceutical and clinical research
"The LiGalli MedRing platform brings new possibilities and insights in treating diseases among women."

Designed for women
Optimal treatment, endorsed by data
The vaginal route for drug delivery is optimal generating higher effectivity, less side effects, higher compliance and less risk of unsafe drug use.
The programmed medication schedule delivers the exact right dosage at the right time for each specific user.
Data are collected delivering insights in improving diagnostics and treatment.
How does the MedRing as a Platform work?
Controlled and safe drug administration and monitoring with 100 % compliance for 28 days.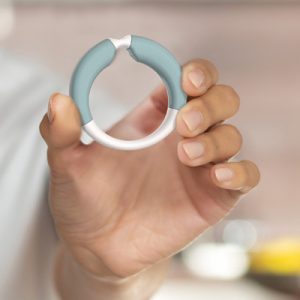 Vaginal drug administration & monitoring
The MedRing is self-insertable and removable, for safe and optimal treatment.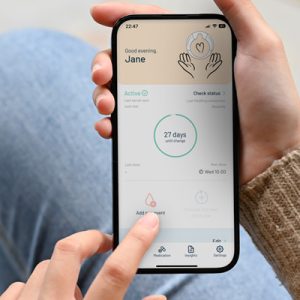 The Companion app is connected to the MedRing via Bluetooth. This enables adjusting schedules of drug doses and bio signal monitoring.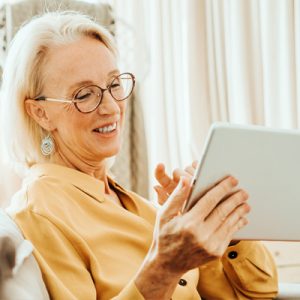 Collect data of bio signal monitoring and drug deliveryto gain insight in the individual treatment and response, to be shared with healthcare professionals.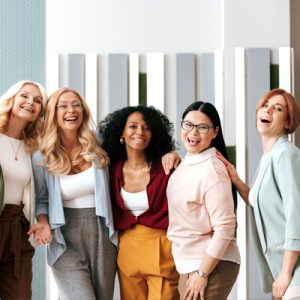 Overall, the platform aggregates and analyzes drug and diagnostic data to provide women health insights.
The MedRing is a vaginal ring consisting of a battery, a drug container, a micro pump, a sensor and Bluetooth connection.  One part of the MedRing is flexible and can be folded to easily self-insert the ring into the vagina. The Medring is connected to a smartphone app for personalized settings of drug administration and monitoring.
Safe and personalized drug administration according to schedule.
Monitoring bio signals by integrated sensors.
MedRing lasts for up to 28 days.
Easy interface via Companion app.
Intelligent drug delivery and diagnostics
The companion app is a user-friendly app, which offers the possibility to personalize dosage and schedules. 
Within the app a diary can be kept up about the insights of the treatment. With the Companion app, the personal settings, data of compliance and diagnosis are documented.
Adaptable scheduling enhanced for tapering and chronotherapy.
Personalized, customized drug administration and bio signal monitoring.
Individualization of medication and monitoring
All user data is stored anonymously. Reports can be made to be shared with doctors or care takers. The data gives insights in treatment efficacy and personal preferences. With these data new insights in treatment of diseases by women can be made.
LiGalli follows the General Data Protection Regulation (GDPR), which is the highest standard of data security in the European Union and the United States. 
Unique real time data
Reliable data input
Combined with user experience (diary)
Data set for reports and studies
Improved treatment understanding
Compiled data to realize optimal medication and diagnoses for women
Personalized medication in practice
Individual scheduled doses
Connection to the platform to get an insight in personalised scheduled drug releases and be notified when medication is given.
Adaptable scheduling enhanced for tapering and chronotherapy.
 
Confirmed drug delivery & biometric information
Both receiving confirmation from the app that the MedRing successfully delivered scheduled drug andtemperature registration.
Co-manage disease with caretaker or lifestyle coach
Doctor's access to the platform is granted. After establishing safety parameters together, the amount and frequency of dose can be set to best fit personal schedule.